Danish Cord Weaving for Mid-Century Modern Hans Wegner Chairs
Posted by Todd DeFrancesco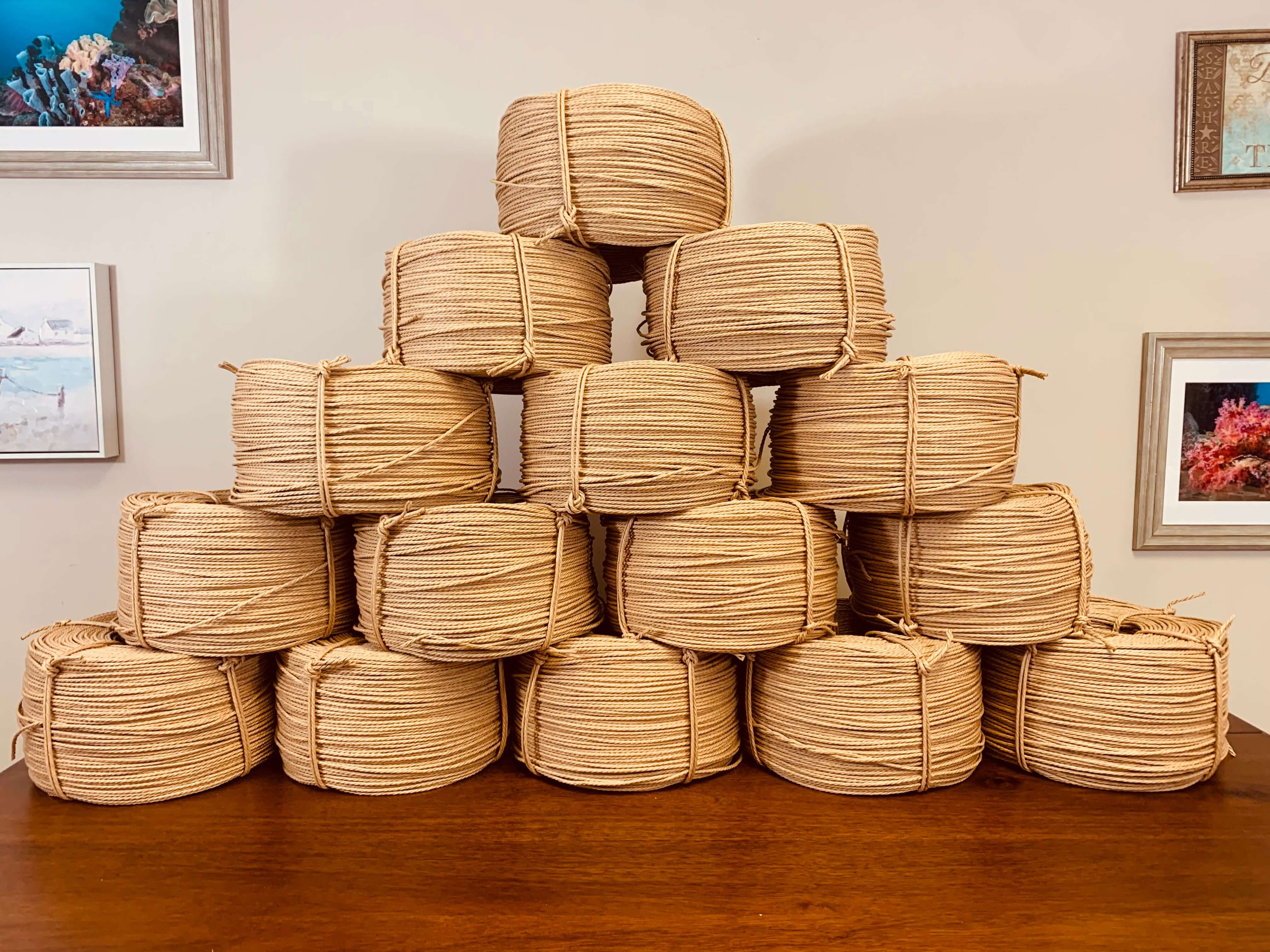 What is Danish Cord and How Can I Incorporate it into My Project?
In this blog, we will explore some popular weaving patterns that incorporate Danish Cord, examine Hans Wegner Chairs' influence on this material's use, and delve into the types of Mid-Century Modern furniture that commonly utilize Danish Cord. We will also look at how to spot authentic Danish Cord, the different styles of Cords, and how to purchase the best Denmark Cord for your project.
Additionally, we will look at any new crafts that incorporate Danish Cord and explore how people use this material uniquely and creatively in furniture design. By the end of this article, you will have a comprehensive understanding of the many uses and benefits of Danish Cord in furniture making.
Let's start by examining some popular weaving patterns that incorporate Danish Cord. One of the most common patterns is the simple and elegant basket weave. This pattern is achieved by weaving the Cord over and under a series of parallel cords, creating a firm and visually appealing texture. Other popular patterns include the twill weave and the herringbone weave, each offering a unique look and feel to the finished piece.
Moving on to the influence of Hans Wegner Chairs on the use of Danish Cord, we find that these iconic chairs helped to popularize the material in the Mid-Century Modern era. Wegner's famous CH24 Wishbone Chair, for example, features a seat woven with Danish Cord that has become a hallmark of this style of furniture.
Speaking of Mid-Century Modern furniture, many pieces from this era utilize Danish Cord in their design. Lounge chairs, dining chairs, and even benches were often crafted with Danish Cord, lending a timeless and classic look to any space.
But what about new crafts emerging that incorporate Danish Cord? While this material has been around for centuries, there are always new, fresh, and innovative ways to use it. One such craft is the art of macrame, which involves knotting and weaving cords together to create intricate and stunning designs. 
Finally, we come to the unique ways people employ Danish Cord in furniture design. Designers are finding new and exciting ways to incorporate this material into their work, from intricate knotting and weaving techniques to unexpected color combinations. Whether you're looking for a classic and timeless look or something more modern and eclectic, Danish Cord is a versatile and durable material that can elevate any piece of furniture. Other popular crafts utilizing Denmark Cord include purse and basket straps, embroidery, lamp cords, paper and hat crafts, boating ropes, signage, and as lace or trim for any creative DIY piece.
Danish Cord is a valuable and versatile material used in furniture making for centuries. Whether you're a seasoned furniture maker or simply a fan of Mid-Century Modern design, this material offers endless possibilities for creativity and innovation. So why not experiment with Danish Cord in your next furniture project and see where your imagination takes you?
But wait...there's more?
The Basket Weaving, Seat Weaving, and Crafts Industries have recently seen a significant rise in popularity. Thanks to the increased focus on sustainability, eco-friendliness, and handmade products, more and more people are turning to crafts and weaving to create unique and sustainable items for their homes and businesses.
One company that has been at the forefront of this industry for over a century is HH Perkins Company. Founded in 1917, HH Perkins has been providing customers with high-quality Danish Cord for over a hundred years. However, with the rise in demand for this product, there has also been an increase in counterfeit versions of Danish Cord hitting the market.
So, how can you tell the difference between genuine Danish Cord and fake Danish Cord? The answer is in the details. Genuine Danish Cord is made from natural fibers, such as paper or flax, and is woven in Denmark. It has a distinct texture and is lightweight yet incredibly strong. On the other hand, fake Danish Cord is often made from synthetic materials, such as nylon or polyester, and lacks the unique texture and strength of genuine Danish Cord.
HH Perkins Co. only sells authentic Danish Cord, so customers can be sure they are getting a high-quality product that will last for years. Additionally, HH Perkins offers both laced and unlaced Danish Cord, with the unlaced option also coming in black and white. This variety allows customers to choose the perfect Cord for their project needs. Laced Danish Cord is a 3-ply weave that resembles rope. It has more texture to the touch than Unlaced Danish Cord. Unlaced Danish Cord is smoother to the touch and not twisted as tightly. Both styles can be used in any design.
In conclusion, the Basket Weaving, Seat Weaving, and Crafts Industry is thriving, and companies like HH Perkins Co. are leading the way with their commitment to quality and authenticity. As consumers prioritize sustainability and handmade products, we expect this industry to grow even more in the coming years. Making Furniture & Restoration companies, Cabinet Makers, Woodworkers, Crafters, and Handmade Crafts companies in high demand in 2023. If you're a fan of furniture making, you may have come across Danish Cord. This enduring and natural material is often used to create stunning and functional pieces in weaving patterns. Danish Cord furniture has a high re-sell value and only gains value over the years. 
Company Updates and How To Purchase
HH Perkins launched our new website on April 12, 2023. We've made some significant improvements to make your shopping experience even better. Products are now grouped by category, and we've added a search bar that populates specific products as you type them out. Pretty cool, huh? 
If you're looking for Danish Cord, simply click into the category and choose your preferred style. Each style comes in 1lb, 2lb, and 10lb coils. We've added a Shop tab at the top of our Home Page, so you can easily find what you're looking for. The Shop Tab is excellent for mobile devices as well. 
HH Perkins has a new Newsletter and customer subscription list where we offer discounts and promo codes to our customers. And we're committed to making informative blogs, posting company updates on our social media pages, and creating How-to videos on YouTube. We will share this information on the site and Newsletter as well.
Thanks for your continued support, and we hope you enjoy the new website!
- The HH Perkins Team